EARLY REGISTRATION CLOSES 17 MAY 2018
It's time for something different:
Customer-LED Service Excellence for Higher Education
Date: 20 June 2018
Location: Birmingham, UK
This exciting event has been developed by three sector leading experts:
Lean Improvement – Christine Stewart
Service Excellence – Susanne Clarke
Service Design – Jean Mutton
With a mix of presentations and hands-on workshops, this event will be an immersive experience that will allow you to enhance your skills, feed your passion for excellence and take back learning that will make a difference. This is only the start and there will be ongoing opportunity to join a network of like-minded people.
The day will combine the best of improvement philosophies such as Lean and Operational Excellence with a strong emphasis on developing tip-top services though collaboration, service testing and human-centred research techniques. Underpinning all of this will be insights into how to foster a culture of service excellence, driven by teams with a shared sense of purpose and built on a deeper understanding of human behaviours.
Customer-LED Bringing it all together – how 'Service Design', 'Service Excellence' and 'Lean' methodologies can combine to enhance the student and staff experience through a 'Customer-LED' (Lean, Excellence, Design) approach
These three videos explain the concepts behind the three areas of this event.
Programme
09:00 Registration, Coffee and Networking – An opportunity to meet colleagues in a structured networking environment
10:00 Welcome – An introduction to the day from Christine, Susanne and Jean
10:15 Is It Me or Is It Getting Hot In Here? – Time to reflect on the context within which we work and the need to do things differently. Creating a group understanding of our strengths, weaknesses, opportunities and threats
11:15 Break
11:45 So Many Techniques, So Little Time! – Taking a more holistic approach to improvement and change. Creating the right environment in which to understand what needs to be done and how to do it.
12:45 Lunch
13:30 Time to Roll Your Sleeves Up! – You will have the opportunity to attend all workshops in a rolling programme; each workshop has been designed to learn and do.
Christine – If customer set the direction then we need to all be pointing the right way. Understanding and setting expectation.
Susanne – What do we mean by organisational culture but more importantly what role can each of us play in making it right?
Jean – Working with students to get it right. Here's one I did earlier and here's how you can do one of your own!
16:00 We Came, We Saw, We Did. Now What? – Wrap-up and lessons learned. Plus how can we work together going forward?
16:30 Developing Future Connections
Participate
We are limiting the number of participants to ensure we create a community feel, where we get chance to get to know each other and help to build collaborative connections that continue into the future.
The venue, the content and ethos have been intentionally designed to make this a great delegate experience and we look forward to giving you a warm welcome on 20th June 2018.
Tickets are priced at £295.00 (+ VAT (= £354.00)) until 17th May
After the 17th May, tickets will be £345.00 (+ VAT)
But this event is only the start and there will be ongoing opportunity to join a network of like-minded people who have a passion for service excellence and enhancing the journey. Out of the back of this event, we are getting together a ''community of enthusiasts'' who will meet up to design new services in a Service Hack (aka Design Jam) – we want to hear from you about what you need to make and sustain change in your organisation to embed a culture of excellence. There will be opportunities to give us your thoughts on the day.
Venue
Malmaison Hotel
Mailbox Birmingham
1 Wharfside St
Birmingham
B1 1RD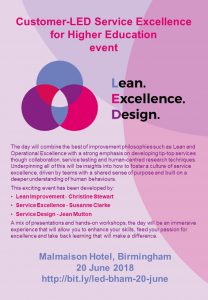 Your Organisers

   Susanne Clarke, CGMA, MA, MSc
After qualifying as a Chartered Global Management Accountant (CIMA), Susanne worked for a number of years at director level primarily, within the engineering and telecoms sector.  Susanne has worked for both large companies and start-ups and has always been ready to volunteer to be involved in new projects, which has led to a varied and exciting career to date. She has played a key role in many quality improvement and lean initiatives, as well as many financial restructures across a number of sectors. Susanne is a member of the CMI and has undertaken a number of management consultancy and trouble-shooting projects over recent years.
Susanne joined the Higher Education Sector in 2001 and has worked in senior roles including Deputy Director of Finance and more recently Head of Service Excellence. In 2014 Susanne completed an MSc at Cranfield University in Organizational Performance Management which supported her in the new direction for her career to focus on embedding excellence within organizations. Susanne has now led and worked with others on many activities to embed service excellence and customer service to create cultures where customer service becomes the 'way things are done around here'.
Susanne has always been passionate about building teams, and using strengths-based approaches to developing staff and teams.  Susanne has qualified as an internal coach and takes a particular interest in supporting women in leadership roles. During her career as a finance professional, Susanne embedded sector leading approaches to business partnership and ensuring that finance teams were focused on really getting to know the business and in adding value. Anything that focuses on culture change and what at times is known as the "fluffy stuff", is what Susanne lives for and she is currently leading approaches to embed kindness and respect for people into organizational cultures.
Susanne has been involved in the world of improvement practice and lean for the past ten years, and sits on the LeanHE Global Committee and the LeanHE Europe Steering Group. Susanne has had the opportunity to work with amazing people and has been given the opportunity to adapt and bring new approaches into Higher Education, with proven results.
Her main area of research as a part time PhD student, is looking at how change is managed within Higher Education and is developing in conjunction with her PhD supervisors a new framework for managing change within Higher Education.
Susanne has also had the pleasure of attending many workshops run by the Disney Institute over the course of a number of years and is committed to bringing new ideas around customer service and service excellence into the HE Sector. She believes in learning from the best, and no one does service quality like Disney!
Susanne.LED@outlook.com
@SclarkeSusanne
www.linkedin.com/in/susanneclarke
   Jean Mutton, BA, FAUA
Following a degree at Lancaster University in Educational Research, Jean began her career in Higher Education management and projects in 1982.
Over the years Jean has managed many Registry and Faculty-based administration teams, covering the student journey from Admissions to Graduation, including Research Student Operations and Quality Management, both in the UK and working directly with collaborative programmes overseas. In 2006/7 Jean was seconded from her post at Derby to be a Panel Secretary working for HEFCE on RAE2008.
In 2007 Jean joined the Student Experience Team at the University of Derby, where Jean led on a range of projects to enhance the student journey, with a particular focus on equality and diversity, and the international and BME student experience.  ‪Jean's work was included the development of a new virtual orientation package sent out to students prior to their arrival – initially intended for international students but proved so valuable it was redeveloped for all students at Derby.  In 2010, JISC-funded work taking a service design approach brought improvements to the student and staff experience of enrolment and transition. Further JISC funding saw Jean working with students to scope out sets of key data to help identify and support 'at risk' students – an early approach to the application of engagement analytics. A high-profile success was the Student Attainment Project (Practical Recipes for Student Success) which saw Jean work collaboratively across the institution and externally to understand and address factors leading to disparities in student outcomes.‬‬‬‬‬
Jean stepped down from her role at Derby in 2015 and has since been working as a consultant within the sector, including as the HE consultant to JISC's 'Optimising the Student Journey' research project in 2015/16 and Manchester Metropolitan University's 'Transforming the Student Journey' change programme in 2016/17. Jean currently working with several HEIs on the application of learning analytics and is the external critical friend to Nottingham Trent University's HEFCE-funded catalyst project "Scale-Up', working in collaboration with Anglia Ruskin University and the University of Bradford.
Jean has spoken at or led sessions on process improvement and enhancing the student experience many times at conferences such as AUA, SROC, ARC, WPM (HE Finance) and Service Design in Business.
muttonjean@gmail.com
twitter.com/myderbi
www.linkedin.com/in/jeanmutton/
www.efficiencyexchange.ac.uk/author/jean-mutton/
Christine Stewart, BEng Hons
After working a number of years in the financial sector Christine completed an engineering degree and began her career in improvement and change.
This career began with BAESYSTEMS working on numerous enhancements to improve the supply of parts, the flow and layout of the plant and increase the quality and consistency of the product. Christine not only trained but implemented improvement tools such as Statistical Process Control, Total Productive Manufacturing and Workplace Organisation. It was during this time that Christine was introduced to the lean philosophy and began to use this as a framework to implement the right tool at the right time and in the right way. Christine continued this work as Continuous Improvement Manager with MFI to improve the efficiency of the equipment to deliver high volume, high quality products.
Christine was then given the opportunity to change sectors and went to work with UnumProvident, in the financial world, running the model office. Her role there was to ensure that all software changes were implemented successfully, first time. This involved not just the testing but using lean principles to develop the processes and procedures as well as the training of staff in operating the new software. It was from here in 2007 that Christine moved to the Higher Education Sector.
Christine joined Cardiff University as Head of the Lean University with responsibility for implementing lean across the whole institution. As one of the first universities to adopt lean principles this was truly a ground breaking moment. With nobody else's successes or failures to learn from Christine had to determine the approach to be taken and to buy stakeholders into this new way of working. Implementation was a three pronged attack: using the lean philosophy to develop and deploy strategic plans that engaged staff and provided clarity on purpose; reviewing and improving processes that cut across the university aiding understanding and breaking down silos; developing and training staff to be able to work together to continuously improve their own working processes and practices.
Christine stepped down from her role at Cardiff in 2015 and has since been working as a consultant within the sector. Christine still uses the three prong attack and has worked at a strategic level with the University of Stirling, The University of the West of Scotland and The University of Edinburgh. Christine has worked with staff to develop lifecycle maps for The University of Edinburgh, The University of Stirling and Newcastle University and has delivered training and workshops for The University of Leeds, the University of Central Lancashire, Nottingham Trent University and Bournemouth University. Christine has also delivered a number of workshops and training sessions for the AUA and is an ILM accredited trainer.
christine.stewart@macresco.co.uk
twitter.com/leanchristine
www.linkedin.com/in/christinestewart/
www.macresco.co.uk