Macresco Ltd offer administrative and consulting services to corporate and higher education clients:
We welcome inquiries regarding short-notice, one-off events to long-term, multi-event projects.
For more information, please contact us.
20 June 2018, Birmingham, UK
Presentations, workshops and discussions creating an immersive and engaging experience around Lean Improvement, Service Excellence and Service Design in Higher Education. Created by Susanne Clarke, Jean Mutton and Christine Stewart.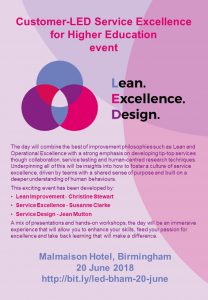 Limited spaces available
Fees: £295.00 + VAT per delegate until 30 April 2018
Thoughts and Papers